The Company

Holman Architectural rigging is a Chichester based Company formed upon a long and successful record of work within this very specialised field. We are able to design, supply and install complete Architectural Rigging systems to your requirements and specifications.

Balustrade and Stairway Infill


An original approach to enhancing a sometimes overlooked area of design, providing a cost effective and virtually vandal-proof/maintenance-free solution. Not only extremely versatile, but also incorporating great strength without appearing cumbersome or bulky.


Adding a new dimension to both internal and external structures, walkways, fire escapes, balconies, bridges, safety barriers and gangways to name just a few. Our designs can be purely functional, elegantly stylish, or even radically extravagant.


What is Architectural Rigging?


It is a stylish and practical answer to many problems, by utilising marine grade ropes and wires together with top quality fittings. These are then constructed to form either very subtle or very striking safety barriers, suspended signs, balustrade and stairway infills, and a host of other applications. They are suitable for Industrial, Commercial or Domestic use, both internally and externally.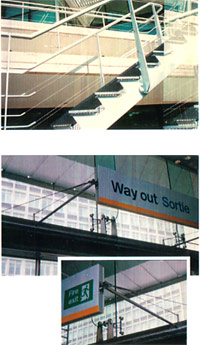 Design Consultancy


Our specialist service for this unique field of work will help transform your ideas into practical solutions, offering you every assistance with advice on specifications, dimensions,


design possibilities, etc., based upon a wealth of information gained by years of experience in this adaptable and exciting medium.


For further details on this, or any other information about our services, please contact us at the address overleaf. We will be happy to answer your questions and help in any way we can.

Waterloo International Rail Terminal


Signs in Space

An increasingly popular and creative method of suspension and staying of signs and mobiles. Strength, versatility and durability being applied as either an unobtrusive support, or an artistic feature of the overall design. This is just one very new and expanding use of Architectural Rigging; to discuss other possibilities please contact our design consultant.



Next Page